News courtesy Andaman Sheekha ::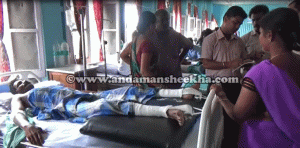 Sarthak Kanjilal
Port Blair, June 14: A Regular Mazdoor of the Electricity Department posted at Neil Island has suffered major injuries after falling from an Electricity pole last Thursday on 8th June at Neil Island. But, no help or support has been provided to him by the Electricity Department yet, claims family.
As per reports, on orders by the superiors the Regular Mazdoor, Mr V Raja Rao climbed up to the Electric Pole and while repairing the line unfortunately he lost his balance and fell down, following which he was immediately rushed to the nearby hospital from where he was later referred to the G B Pant Hospital, Port Blair.
Since then the Regular Mazdoor is in severe pain and the family members are running from post to pillar for help.
Talking to Andaman Sheekha, the Regular Mazdoor said that if they don't follow the orders they were threatened that they will be transferred to some other islands.
"Because I was asked to climb pole, I followed the order but that was not my job, working in an electric pole is the job of Lineman. If the Department gives support for the treatment and provides some compensation that will be of a great help," said the Regular Mazdoor.
Talking to Andaman Sheekha, the Wife of Mr V Raja Rao said that his husband is admitted here since a long time and demanded the administration for immediate help.
Further Talking to Andaman Sheekha, the members of Aam Aadmi Electricity Mazdoor Union said that they have written a number of letters to the Department for not forcing a Regular Mazdoors to work as a Lineman.
"There are many Linemen who are posted at Offices, why the Department is not giving them the job that they are supposed to do," questioned Mr Zakir, member of AAEMU.
The members of AAEMU also alleged that this is not the first time this kind of incident has happened. Earlier at Bambooflat also a Mazdoor died after falling from an Electric pole but even though the department is not learning from their past mistakes.
Talking to Andaman Sheekha, the Incharge, Aam Aadmi Party, Andaman & Nicobar Islands, Mr Sanjay Meshack demanded the administration to provide immediate assistance to the Regular Mazdoor and urged the Department not to force the Regular Mazdoor for doing the work which they are not supposed to do as per the rule.
When Andaman Sheekha contacted the Executive Engineer, SAD, Electricity Department, Mr Suresh Kumar, he said that the Department has already informed the matter to the Electricity Inspector, Chennai.
"Now Group D post has been vanished and all are Group C staffs, at the time of need even we too work on Electric Poles," said Mr Suresh.
However, he further said that the department is looking after the matter and will try to extend all possible supports to the Regular Mazdoor.