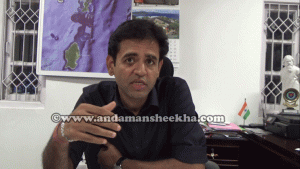 Sheekha Bureau
Port Blair, June 15: Good Governance will never become a reality until and unless all politicians in power and officers on high profile seats stop dreaming and demanding kick-back from every deal.
Corruption has penetrated so much deep into these Islands that even in grassroot level people are developing new strategies to loot money.
In a recent trend various authorities of various panchayat first fix a deal with certain companies and then releases tender notices for various goods demanding goods of only that particular companies.
A recent high court order has clearly said that no government agency can ask for a particular brand of goods and the requirement must be projected in the form of specifications and authenticity marks like (ISI marks, ISO certified or government approved).
But still overruling High Court orders panchayats are continuously demanding particular brand of goods so that the decision makers of that particular panchayat get sufficient kick back.
For an example, on 16th jan 2017 an electrical tender in Gram Panchayat Diglipur was released but the suppliers who was awarded the tender was later harassed by the said Panchayat to supply only goods of a few particular companies.
Anyhow the goods of the said supplier was not accepted by the panchayat and later goods from two ghost firms were received by the same panchayat, which was originally planned.
As per RTI copy received the panchayat later gave supply orders to two firms,, one of which is a retailer and as per rules a retailer cannot participate in the tender whereas the other participant has produced a dummy dealership copy in order to participate in this tender. They both received Supply order of Rs. 92000 and Rs. 68000 from the panchayat and have delivered the products. Surprisingly they have also received the payment.
When contacted the Secretary, Rural Development, Mr Udit Prakash Rai agreed that such cases have already came to his knowledge and the matter which is raised, about favoring a particular brand it is illegal in all aspects.
"As per the GRF also it is illegal, all the tenders has to be done broad based, has to be a global tender or limited tender, so that all must get a fair chance and all has to be given a level playing field. Meanwhile there are also CBC Guidelines which are very strict," he said.
Assuring action he said that "Be assured that to maintain the situation we are very strict and serious. A similar complaint was also earlier received from a Panchayat of Baratang region after which, the department has inquired the matter through the Anticorruption unit following which we have already registered a FIR against the Panchayat Secretary and the Pradhan," the RD Secretary said.
The Secretary RD further said that if similar is the issue with some other Panchayat at Diglipur a complaint can be forwarded to him with the documents so that the department can initiate a preliminary inquiry through the Anticorruption unit or the vigilance wing of the department and if, after the inquiry, department finds any truth, a strictest action will be taken in this matter.