News courtesy Andaman Sheekha ::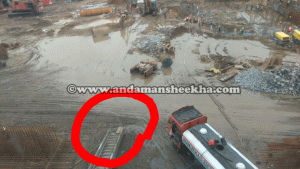 Sheekha Bureau
Port Blair, June 15: It is said that 'a picture is worth a thousand words' but in case of pictures of Vizag Port, coming from passengers, these pictures says millions of things about the pathetic situation of the Port, where ship bound for Andaman is berthed.
The Pictures taken from passengers shows that some kind of construction works are going on the Port and the works is being carried out in such a careless way that not a single clean passage is available for ship passengers to board the ship. In the picture as far as one can see, the port area is covered with rubbles, construction materials, mud and loose earth.
Talking to Andaman Sheekha over phone a passenger was at Vizag Port recently said that due to some construction works, being carried out on the Jetty, there is no space even for the gangway to be placed on the Port.
Talking to Andaman Sheekha, Mr Aziz-Ur-Rehman, State General Secretary, Telugu Desam Party, Andaman & Nicobar Islands said that he has received the complaint from the Telugu Community people of these Islands a number of times and no doubt the worst condition of the Vaizag Jetty has really made it difficult for the people.
"I am going to meet the Chief Minister of the State after 22nd June and demand for a Passenger Hall and other facilities in the Jetty will be kept in front of him," Mr Aziz-Ur-Rehman said.