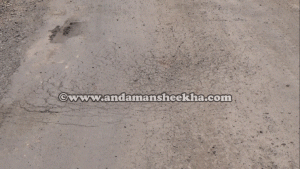 Port Blair, June 19: A newly constructed Road at Birchgunj, Brookshabad has developed potholes and cracks on the its surface at various points, causing immense troubles for motorists and business community, exposing low quality work and lack of supervision of Port Blair Municipal Council (PBMC).
Just two months back the PBMC constructed the Birchgunj, Brookshabad road following the long pending demand of the villagers but ultimately it seems that only a few people got huge benefits out of this deal while villagers got only potholes and bad road.
As per reports, the aforesaid road was actually constructed approximately 15 years ago and due to regular movement of quarry material loaded heavy vehicles, on the road, the road got dilapidated long back following which since past many years the villagers of the area were demanding reconstruction of the road.
As per some of the Contractors, the thickness of the road was not maintained by the contractor, who has constructed the aforesaid road and neither the rolling were done properly.
"Usually during a road construction and in a place like Birchgunj, Brookshabad where everyday hundreds of Heavy Loaded Truck crosses, there should be a three layers of stone bed and after rolling the width of the road should be done at least around 20 cms and after Coal tar polishing the width of the road must be around 30-32cms but in this case the overall width of the road is not even 15cms, which is the main reason behind the present condition of the road," claimed a Civil Engineer of APWD in case of anonymity.
Talking to Andaman Sheekha over phone, another Civil Engineer of APWD in case of anonymity said that as per the climate in Andaman the life of the road is around 05 years, hence, if the aforesaid road developed cracks in just two months of Construction there is definitely lack of monitoring by the Constructing Authority, in this case PBMC.
Whatever it may be, now the people of the area are demanding the PBMC to construct the road again as according to them the road is going to vanish in the coming monsoon itself.
People from the construction background also demanded the Administration to conduct a CBI inquiry in this.
The ward councillor of the area was unavailable for a comment in this issue even after repeated attempts.