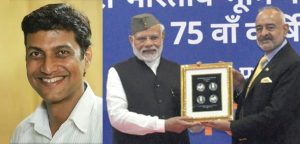 DJ Venkatesh
Port Blair, Dec 31: Yesterday, the 30 Dec 2018, the Prime Minister of India, Mr. Narendra Modi, unveiled the 75 rupees coin to commemorate the 75th anniversary of Netaji Subhash Chandra Bose hoisting the Tricolour for the first time at Port Blair on 30 Dec 1943.
The commemorative coin made out of 50 per cent silver, 40 per cent copper, and 5 per cent each of nickel and zinc, and weigh 35 grams. This coin bears the portrait of 'Netaji Subhash Chandra Bose' saluting the flag on the background of Cellular Jail in Port Blair. A numeral 75th along with inscription "anniversary" depicted below the portrait. The coin also carries an inscription saying 'First Flag Hoisting Day' in both Devnagari script and English.
Earlier, on 14 November 2018, the Lt Governor in a meeting at Rajniwas had informed press that the design of the coin, made by an islander, has been approved by the Ministry, after minor alterations.
Andaman Sheekha traced the designer of the said coin, and it was found that the designer is Mr. Jag Jeevan Ram, a well known graphic designer of Andaman and Nicobar Islands, who have designed several dozens of departmental logos and other proud emblems and symbols, on voluntary basis.
Mr. Jag Jeevan Ram, belongs to one of the oldest settlements (Pre-42) of Port Blair. After completing his bachelor degree from JNRM, Port Blair, Mr. Jeevan joined the regional centre of ICMR at Port Blair during 1994.
On asking the designer, how he feels now after this magnificent achievement, he conveyed his sincere and heartfelt thanks to the Lt Governor, the Chief Secretary and the Secretary (Art & Culture), who found him suitable to perform for this highest and rarest opportunity of designing the prestigious Indian Currency.
He further added, this success indeed the greatest ever for any person hence he is also thankful to God for providing this honour. Only after getting approval of many superior authorities viz the Chief Secretary, the Lt Governor, the Prime Minister's Office and finally the Currency Printing Agency, my design shaped as Indian Currency, which itself confirms the ultimate success level.
Besides being an exemplary Govt. servant with firm commitment towards his duties as Assistant (Office), he also proved to be a good cricketer and an excellent artist. He has a remarkable artistic sense and excellent command over computer aided designing software with special interest and ability of designing logos. His designing style is highly innovative and expressive. The most important aspect about Mr. Jeevan is that he is providing his aesthetic services purely on voluntarily basis. The departments and organizations whom Mr. Jeevan rendered his services voluntarily includes National Defence College-New Delhi, Indian Navy, Andaman Nicobar Police, Dept of Environment & Forests, APWD, Dept of Agriculture, APWD, Dept of Transport, IP&T, Dept of Art & Culture and many other mainland and local organizations. His logo was used for the HDUCIM (ASEAN Countries) meeting held at New Delhi organized by National Defence College during Oct 2016. The logos for the most popular events of these islands being organized by the Indian Navy viz. MILAN 2014 and MILAN 2018 were also designed by him.
Mr. Jeevan is known for his keenness and remarkable energy level during providing his specialized services, which makes him to complete a beautiful creation. Whenever he got any designing opportunity, he jauntily accepted the task and after his duty hours he works from late night 9.00pm upto 1.30am morning in his personal computer at his home almost daily.
On being asked about providing his specialized service free of cost, he told that designing is his passion and he is working very hard and enjoying it. It gives him immense pleasure and joy on completing a meaningful design as in the shape of a logo his name and work will remain for decades, he further added. Due to this designing talent only, he has been getting respect and love from the highest officials and all other islanders and he will continue.