News courtesy Andaman Sheekha ::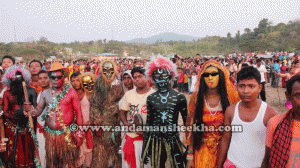 DJ Venkatesh
Diglipur, Apr 13: Charak Puja celebrated at Sitanagar Diglipur today. It is a special folk festival, celebrated on the last day of Chaitra month in the Bengali calendar, for bidding good-bye to the passing year.
It is believed that the celebration leads to prosperity in the coming year, wiping out all the sufferings and pains of the current year. Lot of devotees gathered today evening at Sitanagar to offer prayers to the deity.
A trunk of the divine ritualistic Charak tree pole is carefully and religiously erected. It has horizontal poles attached at the top from which saints hosted up and swing as they are rotated around the tree.
The festival ends by immersing the Charak tree in pond water till the next year. Prayers are offered that the festival will continue for each and every year to come.