News courtesy Andaman Sheekha ::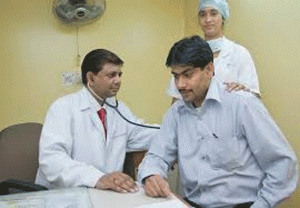 Dr SUDIP CHAKRABORTY (MD Medicine)
So what is placebo? It basically means ' I shall please'. But it is much more than that. Any doctor worth his salt will tell you the enormous role it plays in getting a patient satisfied after giving whatever treatment .
How it started?
When a American surgeon Henry Beecher was serving in world war2, he ran out of morphine, a terrific pain killer among other things. So much was the rush of wounded soldiers needing surgery and with no morphine to give before operation, he panicked. He started filling empty bottles of morphine with normal saline. With a flair and telling the patients ' here I am giving you morphine and your pain will go away in no time', he went on to perform surgery without a single ouch from patients. He subsequently performed many surgeries that day using only saline but to the soldiers it was the potent morphine. When morphine finally arrived, he did his surgeries on alternate soldiers with morphine and with plain saline. Results of both the group were identical and the soldiers on saline surgery were in no more pain than the morphine group. He subsequently published his findings in Journal of American Medical association, which turned out to be huge leap forward for us to know the role of mind, positive acceptance, faith, suggestibility and so on.
Of course these days no drug is considered effective if it can't surpass placebo. Typically placebo which could be anything like a peppermint or chalk, which when given under appropriate circumstances and in a manner, can have a effect on a person which can't be explained by that substance alone. So for placebo to be effective many factors are to be present. I would like to suggest some;
1) Seed and soil concept; A good seed not only needs a appropriate prepared soil but also a right environment. If seed is the medicine, then the soil has to be the mind prepared to the extent that he is convinced without any doubt that this is going to cure me. All this is to be done in a environment where the patient is neither hurried nor short of attention with any distractions.
2) Mass effect: Ever wondered about thousands of people lined up for that gulp of fish to cure asthama? And that fish prepared by select section of people since generations. Of course no scientific reason been found for cure other than thought of thousands of minds with an acceptant attitude strongly believing that they will be cured.
3) Suggestibility: Wondered why a very difficult to reach doctor when treats you, you get cured when hundreds of other equally qualified doctors in your town failed? The whole process of waiting and thus allowing the mind to dwell on the doctor for months, hearing his success stories, prepared the eager mind and bingo a multi vitamin along with the dharshan of the doctor and nice little tap on the hand , just cured you.
4) Engage the mind: Have u ever felt good while telling your problems to your doctor and he meanwhile keeps on answering his phone or somebody barging in and out of the room constantly? So you end up either repeating your symptoms or start thinking about what's in for lunch? Placebo effect comes only when the mind is engaged and the doctor gives the undivided attention to the patient.
5) Body language: Body languages like showing you complete attention as if he has nothing else to do, listening up without interrupting or judging, non combative and non suspicious stance, eyes wide open without yawning, showing genuine interest in the problem presented, understanding the non verbal cues like the way eyes moves around, frequent eye contact, prosody of the voice etc all goes a long way in establishing a rapport for the placebo to set in.
Of course there is many more things about placebo but due to time constraint I tried an attempt to present some commoner and readily identifiable scenarios.