News courtesy Andaman Sheekha ::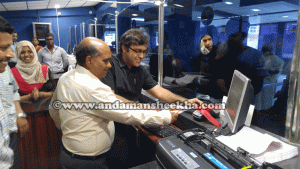 Port Blair, Mar 08: The Chief Secretary, A&N Administration, Shri Anindo Majumdar along with Shri Sanjeev Khirwar, Commissioner-cum-Secretary (Shipping) officially inaugurated the Digital Payment mode for purchase of ship tickets through STARS counter at Port Blair today i.e. 08th March, 2017. The transactions will be made through the SBI Point of Sale Machines (PoS). The STARS counter at Phoenix Bay jetty is now fully capable of accepting payments for ship tickets/cargo through debit cards. The Chief Secretary while inaugurating the system also presented a ship ticket bought through PoS Machine to two tourists Shri Ankit Wadbude and Shri Harshit.
The Director, Shipping Services said that the Directorate will soon be introducing similar PoS Machines at other STARS counters all over the Islands as well as its offices at Mainland i.e. Chennai and Kolkata. The Directorate is making all efforts to introduce cashless transactions in every manner possible. All payments to all agencies including Salaries to crew & staff, contingency bills and payments for all other services are already being made by the Directorate only through cashless means. The introduction of PoS Machines will now enable the Directorate to even sell tickets and accept payment in cashless mode. This is in line with the national policy on the subject of Cashless India, the Director added.