News courtesy Andaman Sheekha ::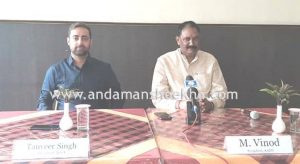 John Wilbert
Port Blair, Jan 31: The Andaman Association of Tour Operators and Andaman Youth Chamber of Commerce & Industry are planning to launch a website soon, under Hotels and Resorts Standardize Programme, which will cover all hotels in the archipelago.
Tourists visiting the archipelago will be able to choose their favorite hotels through the website.
Addressing a press conference yesterday at Hotel Shompen, Mr. M. Vinod, President of Andaman Association of Tour Operators said that AATO and YCCI are going to take big steps in the field of tourism.
He said what kind of facilities are there in the hotels of these islands are not told anywhere.
The two organizations are now launching a website to classify hotels in the archipelago which will provide information about the hotels here and the facilities provided by them.
Mr. Vinod informed that a team of ten members of the association has included 150 hotels from across the archipelago.
He informed that this website will be launched on Monday during an event. Tourism Secretary Mr. S.K. Singh will be the chief guest while Director of Transport Dr. Navendra Singh will be the guest of honor. He told that a cab service will also be launched on the day. "This cab service is being started for the convenience of islanders and tourists. This cab can also be booked anywhere," he added.
YCCI President Mr. Tanveer Singh said that the project was pending for a long time.
"With the launch of this website, tourists will be able to gather more and more information about the hotels here. He informed that many works are being done by YCCI for the development of tourism industry so that the stakeholders involved can be helped," he added.