News courtesy Andaman Sheekha ::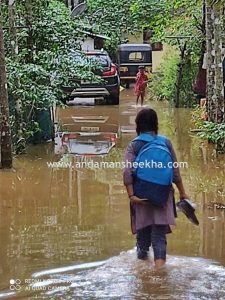 Gracy Tripathy
Port Blair, Feb 15: Heavy rain this morning caused moderate damages in nearly 25 houses of ward number 4 and 5 of VK Pur Village of Little Andaman Island.
According to local leader, Ms. Suchitra Bala, heavy rain started at 9.00 AM today and within two hours rain water inundated a large area of Ward number 4 and 5 and water gushed inside nearly 25 houses of the area causing moderate damages. The rain also caused damages in farm land of many villagers, it is learnt.
She alleged that nearly two months back similar incident had happened in the same area after which officers of revenue department came for relief but no permanent measures were taken by the authorities to prevent such flood like situation in future, hence today's incident took place.
"Whenever there is a heavy rain, this area faces similar tragedy and in every occasion officials visit these villages, give assurances and leave. They never take any concrete measures to prevent such flood like situation. Three is knee deep water in most of the areas of VK Pur village," she added.
When contacted, the Tehsilder of Little Andaman told Andaman Sheekha he has no information about such water clogging in V K Pur village of Little Andaman.