News courtesy Andaman Sheekha ::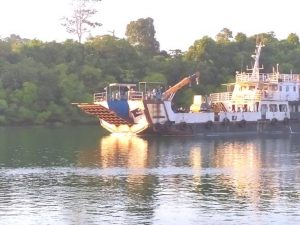 Vikramaditya
Port Blair, February 17: Considering easing of the restriction on the movement of vehicles in Andaman Trunk Road after lockdowns, everyday a large number of vehicles operate from Port Blair to North and Middle Andaman and vice versa.
Most of the vehicles prefer to travel North and Middle Andaman from Port Blair in the morning convoy, which is at 10 AM, so that they could reach their respective destinations before late night.
Hence there is a huge rush at Middle Strait at 11.30 AM, when all vehicles of first convoy reach at Middle Strait Jarawa JPP gate.
Sometimes there are more than 90 vehicles (including cargo trucks) in the morning convoy because of which there is a long queue of vehicles at the Middle Strait.
Unfortunately, as there are only two vehicle ferry vessels at Middle Strait, the movement of vehicle from Middle Strait to Nilambur Jetty slows down heavily.
Because of this, the vehicles which are at the end of the line of 10 AM convoy, often have to wait for two to three hours at Middle Strait for their chance to cross the Middle Strait.
This delay in crossing Middle Strait via vehicle ferry, delays the overall journey time of the passengers of North and Middle Andaman.
Since a long time people of North and Middle Andaman have been demanding that there should be at least three vehicle ferries at Middle Strait so that vehicles reaching Middle Strait could immediately be transported to Nilambur Jetty and and vice versa.
It would also help in reducing the travelling time of ATR commuters.
Nearly few months back for sometimes three vehicle ferries were provided at Middle Strait during which the movement of vehicles in ATR between Middle Strait and Nilambur was very smooth and vehicles used to cross the other side of ATR in no time.
But since last two to three months it has been observed that, once again only two vehicle ferry vessels have been placed at Middle Strait for which the passengers are suffering heavily.
For example, today last few vehicles of 10 AM convoy got the vehicle ferry to cross Middle Strait at 2.30 PM, even after reaching Middle Strait at 11.30 AM. Thus they had to wait for three hours at Middle Strait, without food or water. Worst sufferers were children on those vehicles. ATR commuters told Andaman Sheekha that now a days often such delays are observed at Middle Strait.
One can imagine the plight of ATR commuters on those days when one out of the two vehicle ferries, develops technical snags, taking waiting time to four to five hours.
This is worth mentioning here that the worst hit are the cargo truck drivers who have to often wait for six to seven hours at Middle Strait for their turn to reach Nilambur Jetty of Baratang Island.
This is sad to note that even after highlighting this issue several times, the Shipping Department has chosen to keep eyes closed and let ATR commuter suffer at Middle Strait. Andaman Sheekha earlier contacted a senior officer of Shipping Services to comment on this issue but he failed to give any proper reason for not keeping three vehicle ferry vessels at Middle Strait.
"The Secretary and Director of Shipping Services must find some time to come out of their AC Chamber and pay a visit to Middle Strait one day during rush hours to see the problems being faced by general public," an ATR commuters told Andaman Sheekha today.