News courtesy Andaman Sheekha ::
DJ Venkatesh
Diglipur, North Andaman, Oct 24: 40 False Killer Whales have found dead at Elizabeth Bay (inhabited by 20 Families) area of Shyam Nagar village in Diglipur Island of North Andaman.
To reach Shyam Nagar Village, one has to travel 30 kms from Diglipur Bazaar then in Dinghi one need more than two hours.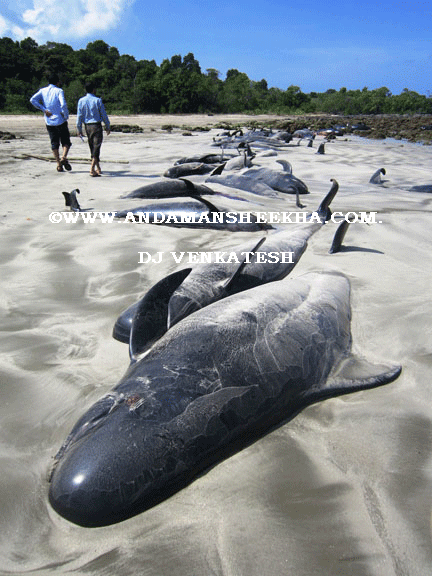 False Killer Whales are large "open-ocean dolphins" known to attack and kill others with their distinctive array of 44 teeth.Post Mortem of the bodies is being carried out today.
"We are waiting for the post mortem report. As the area is totally cut off, we are unable to contact the team, which was sent to Shyam Nagar," the Assistant Commissioner of Diglipur, Dr. Vivek Kumar to 'Andaman Sheekha' today.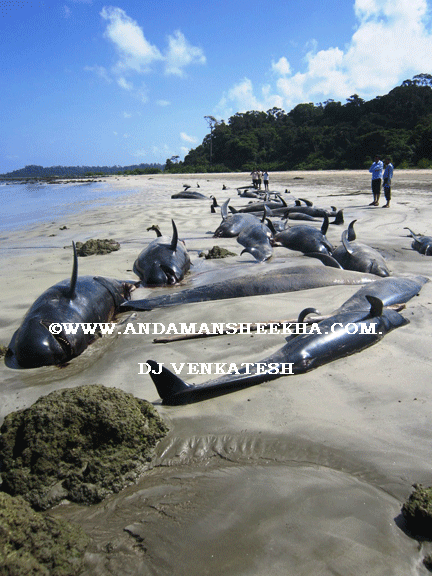 Dr. Kumar said that initially there were 41 Killer Whale but one whale was pushed back into the sea by villager, which survived the disaster.
Mr. Bimal Das, Panchayati Raj Institute Member from Diglipur Panchayat first saw the dead Killer Whales on 21st Oct, 2012, when he had gone to his brother's house during Durga Puja.
"I saw something is shining on the beach. I went there with a torch in hand and was horrified with the scene at the sea beach. There were many big fishes lying on the sea beach. Their fins and tail were shining in moon light. Immediately I informed the matter to villagers," Mr. Das added.
According to Mr. Das, villagers were too scared to see the Killer Whales, which were lying all around on the beach. Some were still in knee deep water. "The villagers tried to push them back into the sea but failed, later they went back. Next day they found as many as 40 whales dead on the beach, some of them were bleeding," Mr. Das added.
Next day the matter was reported to Dr. Shailesh Kumar, Assistant Fisheries Development Officer, who took up the matter with the Assistant Commissioner of Diglipur, Dr. Vivek Kumar.
On 23rd October at around 5.00 am Dr. Shailesh Kumar, AFDO and Dr. Vivek Kumar, AC Diglipur along with other staffs reached the beach and were shocked to see dead Killer Whales.
"False Killer Whales are very emotional like human beings. They are found in groups. If any of the dolphin is trapped, others show sympathy and other whales follow," Dr. Shailesh Kumar told media persons at Diglipur today.
Meanwhile the Assistant Commissioner has passed orders to dispose off the dead Killer Whales.
However late yesterday evening DFO, North Andaman told Andaman Sheekha that they have identified the species as Short Finned Pilot Whales, although confirmation is still to come.