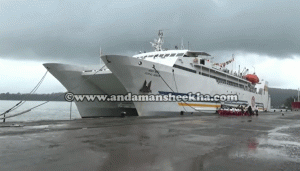 DJ Venkatesh
Port Blair, June 27: Finally after two long months of wait the passenger ship MV Coral Queen was inducted by the Lt. Governor of Andaman and Nicobar Islands on Monday.
After former induction the Lt. Governor himself visited the ship and appreciated the facilities available onboard for the passengers.
No doubt, even when this ship is chartered, induction of a ship for Nicobar District will make life of thousands of people living in Nicobar District a little easy. Especially when the weekly fight to Car Nicobar has already been suspended, ship is the only mean of travel in Nicobar District. Although there are helicopter services but the service couldn't ever serve common man.
The Lt. Governor was so much impressed with the ship that in the visitors' dairy he wrote "Coral Queen the ship being started today is one of the best ships I have travelled. I wish the ship shall serve the Islanders in good way and with good facilities. I wish the great success for the ship and the passengers".
However the lone Member of Parliament of Andaman and Nicobar Islands, Mr. Bishnu Pada Ray, was unhappy for some reasons. Firstly he did not accompany the Lt. Governor during the ship visit. He preferred to visit the ship with PBMC councillors and the Chairperson of PBMC as well as Chairperson of South Andaman Zilla Parishad.
Expressing his discontent, he said that on one hand Prime Minister Modi is trying to double the income of farmers of India on the other hand the income of farmers is in negative trend.
He said that farmers of Little Andaman can only transport their produce via ship to Port Blair or Nicobar Group of Islands but in this new ship there is no proper storage for vegetables.
"The temperature inside the Cargo area is so high that if farmers keep vegetables inside it, the vegetables will turn yellow from green within half an hour. There is no other area for keeping vegetables in the ship and hence farmers of Little Andaman will not be able to transport their produces in this ship," the MP said.
Targeting Administration the Member of Parliament said that while finalizing the ship the Administration didn't even consider taking opinion of public representatives and elected PRI members of South Andaman or Nicobar District.
The MP also demanded that the Administration should make the financial details regarding taking the ship in lease, to public as the money being paid to the Shipping Company is actually Tax-payers' money.