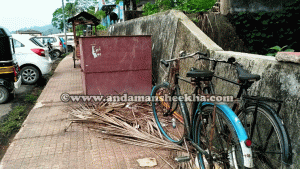 DJ Venkatesh
Diglipur, Jun 26: If you ever visit Diglipur, you should be careful at the heart of Diglipur Bazaar while walking on the footpaths. Uneven surface and wide pits all over on the footpath have become a nightmare for pedestrians.
Footpaths were constructed nearly a decade ago, on both sides of the Diglipur main road, but now the same are in dilapidated condition.
Missing concrete slabs are becoming reasons for accidents for aged and children in middle of the bazaar. Moreover the encroachment by the petty shop owners become worse with the arrival of monsoon as pedestrians are forced to walk on the road inviting for road accidents.
Some pan shops have also encroached on the footpaths, which forces general public to walk on the road. Moreover dustbins are also placed in the middle of the bazaar and nose-busting smell of these dustbins give horrible time to pedestrians.
"The authorities concerned have adopted a slack approach towards maintenance and repairs of the footpath. Since last several months these sick footpaths are laying unattended giving jitters to public.
The situation turns worse in the evening hours when people gather around the Pan shops not giving way to the pedestrians to walk.
Responsible authorities must immediately intervene and clear the footpaths and action should also be taken to ensure timely maintenance of the footpath system in the area. Villagers of Diglipur are also demanding immediate repair of the footpaths.