By, Debkumar Bhadra, Shore Point, Bambooflat, S Andaman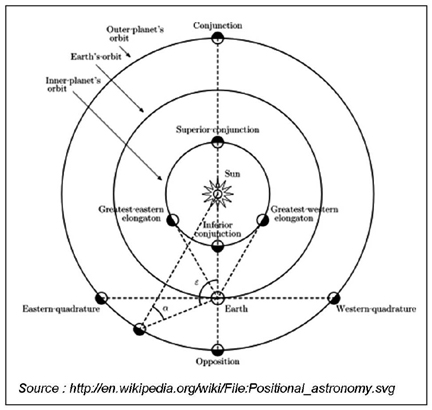 As available in Microsoft® Encarta® Dictionary, "opposition" is "hostile attitude" or "action" : a disapproving attitude toward something and a wish to prevent it, or action taken to show disapproval of and prevent something. This definition of the word "opposition" however translates into a dreaded fear in political circles causing many a heads to roll. But when it comes to planet Mars "opposition" is considered a celestial treat that the scientific community, especially those in astronomy desires to be a part of.
In positional astronomy "opposition" means, a superior planet during its orbital journey falls opposite to the sun in a line passing through the planet (inferior) on which the observer is situated. For an Earth bound observer, planets outside Earths orbit namely Mars, Jupiter, Saturn, Uranus, and Neptune are termed "superior" planets whereas those orbiting on the inside namely Mercury and Venus are referred to as "inferior" planets.
One such "opposition" would befall on 3rd March 2012 at 20h 10m UT (4th March at 01.40am IST) wherein Mars would lie in a line, 1800 opposite to Sun, when viewed from Earth. As such the face of Mars visible from Earth would be fully illuminated making it appear brighter, bigger and easier to locate in the sky. Also during opposition Mars would rise around sunset (in the eastern sky) and set around sunrise rendering it visible all through the night for about a week. Hence if you come across someone gazing the night sky on 4th March, Sunday, it's no reason to perplex; he could just be the one among thousands, curiously gazing the most "mysterious" and "explored" planet – Mars, which happens to be in opposition starting that date.
Placed fourth from the Sun, Mars is a terrestrial planet having approx half the diameter of Earth with Phobos and Deimos as its moons. The planet is named after the Roman god of war and appears reddish-orange owing to presence of iron oxide on its surface, hence also called the Red Planet.
Mars posses quite a few feature semblance of Earth, such as four seasons, changing weather, polar caps, storm clouds, dusty winds, and a variety of surface features that change color, size and appear to shift position over time. Such striking earth like feature confers Mars # 1 position in the list where possibility of life outside Earth is deemed possible.
Olympus Mons, the volcanic mountain located in Mars' western hemisphere is the tallest known mountain (22 km) in the Solar System; almost three times as tall as Mount Everest (8.8 km). The Valles Marineris system of canyons along the equator which is more than 4,000 km long, 200 km wide and up to 7 km deep is one of the largest canyons of the Solar System, surpassed only by the rift valleys of Earth. The Borealis basin or the North Polar Basin believed to be formed by an impact so large that it produced the Tharsis bulge along its rim, having axes of length 10,600 km and 8,500 km is the largest impact crater in the Solar System; approximately four times the diameter of the next largest craters, the South Pole–Aitken basin on Earth's Moon and Hellas Planitia on the southern hemisphere of Mars.
Apart from these, other Maritan feature having semblance of Earth include length of its sidereal day (Mars = 24 hr 37 min whereas Earth = 24 hr) and the axial tilt (Mars = 25° whereas Earth = 23.5°). However the time taken by Mars to complete one revolution around the Sun is about two Earth years long (687 Earth days). This difference in the orbital period of Earth and Mars results in Earth overtaking Mars once in every 26 months. During such a crossover, Mars lags behind Earth and appears to move backwards in a looping motion (retrograde) with respect to background stars. Such an orbital rendezvous resulting in Mars falling in a line, 1800 opposite to Sun for a brief period is called "opposition" when viewed from Earth.
Further since the orbit of Mars and Earth are ellipses and inclined with Sun offset from the centre, distance between the two planets at an opposition can be anything ranging from 56 to 100 million km with an apparent magnitude varying between +1.6 and -3.0. And angular size varies from 3.5 to 25 Arc Seconds.
This time Mars would reach opposition on 3rd March, 2012 at 20h 10m UT (4th March at 01.40 am, IST) in the constellation Leo. Two days later on 4th March, Mars will have its closest approach to Earth during this apparition (100 million km). This is close to the least close, or largest value, as Mars will be considerably close to the aphelion of its orbit.
To the naked eye, Mars will appear as a pale orange bright star (maximum size being 14 arc seconds) below the Moon (about 130 times that of mars) on the eastern horizon after the evening twilight. Thereafter as each night goes by, Mars would appear higher and higher in the sky and would slowly grow dimmer and mingle with other heavenly bodies as Earth moves away, leaving Mars lagging in its orbit.
Opposition provides unique opportunity to launch scientific studies, specific probes, sending spacecraft etc with the view to gather crucial data on the planet. Currently Mars is host to three orbiting spacecrafts namely Mars Odyssey, Mars Express, and the Mars Reconnaissance Orbiter. On the surface are the Mars Exploration Rover Opportunity and its recently decommissioned twin, Spirit, along with several other inert Landers and Rovers. Observations by NASA's now-defunct Mars Global Surveyor show evidence that parts of the southern polar ice cap have been receding. Observations by the Mars Reconnaissance Orbiter revealed possible flowing water during the warmest months. Though direct evidence of life is yet to be found, the data sets gathered through various Mars probes complement the idea that Mars may have had conditions conducive to support life in the past.
Though this opposition will not be as spectacular as the one witnessed on 27th August, 2003 when the distance between Mars and Earth shrunk to 56 million km, but hope this "Opposition of Mars" would bring scientists further closer to the elusive breakthrough. Whereas a casual observer like me would just look up at the sky and wonder!
References :
1) http://en.wikipedia.org/wiki/Mars
2) http://www.packolkata.org
2) Bell, Jim. "Mars (planet)" Microsoft® Student 2008 [DVD]. Redmond, WA: Microsoft Corporation, 2007.
3) http://www.spaceref.com/news/viewpr.html?pid=12234
4) http://spider.seds.org/spider/Mars/mars2012.html
5) http://www.lovebigisland.com/hawaii-blog/opposition-mars-2012/
6) http://www.alpo-astronomy.org/jbeish/2012_MARS.htm