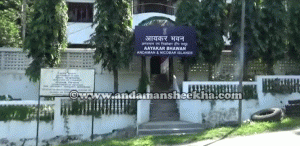 Port Blair, Mar 28: Income Tax raids were conducted across multiple places in the city- led by Deputy Commissioner of Income tax Smt. Aashwita Lal, ITO Shri Ujwal Kumar and ITI, Sunil Kumar.
Simultaneous, raids were conducted across Junglighat, Bathubasti, Babu Line, Prem Nagar yesterday and are continuing today. These raids cover tour operators, jewellers, wholesalers who have wilfully not responded or failed to explain their cash deposits to the local authorities here.
The Income Tax Department is closely monitoring cash deposits post demonetization. It has received data regarding hundreds of deposits here in Andamans, which are being meticulously scrutinized on a case to case basis by the Office of the Deputy Commissioner at Port Blair.
Online responses were asked for justification of the cash deposits. On failure to provide the same, parties are being individually summoned and survey carried out to verify the source of such deposits.
In the last two weeks surveys on errant parties have led to declarations running into several crores. Parties, who are unable to substantiate the source, have been given the option of opting for declaration under Pradhan Mantri Garib Kalyan Yojana which is in force till the 31st March 2017. Under this 49.9 percent tax will have to be paid on the undisclosed income and is a golden opportunity to come clean.
It has been learnt that a large number of assesses with cash deposits have come forth and opted for the above scheme in the local office here at Port Blair. Cases which fail to justify their source, voluntarily, will face harsh probe agencies like the Enforcement Directorate and CBI.
The tax and penalty against those who fail to avail the scheme could go as high as 137 percent of the cash deposits made. Those who have received online notices or otherwise from the department are specially directed to appear in the Income Tax office, before 31st of March.