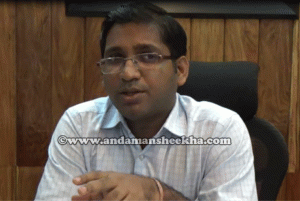 Sheekha Bureau
Port Blair, May 26: The Tourism Department is planning to transform Andaman and Nicobar Islands into Adventure Water Sports Capital of India by expanding existing infrastructures and introducing new Water Sports Activities for tourists.
Presently Andaman is well known worldwide for deep sea diving, shallow water diving, snorkeling and other water sports activities but now the Andaman Tourism in planning to introduce submersible water scooters and sail boats to attract more tourists.
"For coming years we are getting proposals, at presently we are working on submersible scooters. We are expecting new guidelines to come soon. We are also getting proposal for sail boats and we are examining it," Amit Anand the Director of Andaman's Tourism Department told Nation Live today.
The tourism department is also planning to introduce technology in a big way for effective monitoring of all these activities to ensure safety of tourists and safety is something which Tourism Department is taking too seriously.
Besides this training of staffs and everyone else directly or indirectly related to tourism industry is another major priority of Andaman Tourism Department so that Tourists visiting Port Blair witness a professional approach everywhere.
"Our aim is to have more activities but well regulated. Safety of tourists, safety of ecology, sustainable and most importantly, ease of doing business is our priority. We are looking holistically at development of water sports. We are also trying to spread water sports beyond South Andaman and taking Water Sports to North and Middle Andaman too," said the Director of Tourism.
As Andaman Tourism is totally beach centric such approach of Andaman's Tourism Department will definitely be a game changer.