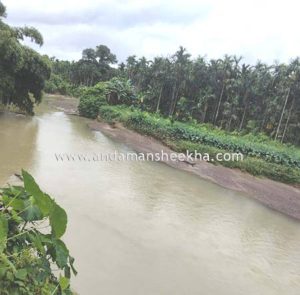 John Wilbert &Vikramaditya
Port Blair, Apr 30: For last many decades people of Mayabunder region have heard from government officials that Administration's plan to build a new dam over the Korang nallah at Mayabunder has the potential to solve the issue of water scarcity in the entire Mayabunder region. However, the plan has been in the dark for more than two decades, and the project is yet to see the light of day.
Residents of Mayabunder have expressed their frustration and disappointment over the delay in the project, which could have helped solve the water scarcity issue in the region. The Korang nallah has been identified as having huge potential as a water source, and the construction of a dam could lead to a regular water supply in the area.
"The proposal of a new dam in Korang nallah is very important because our village has been facing a problem of water scarcity for many years," said a resident of Mayabunder.
Mr. Sankar Mondal, theZilla Parishad Member of Hari Nagar Constituency Middle Andaman stated that the villagers have been demanding the start of the work on the Korang nallah water project for over 30 years. "Thirty years ago, an officer of PWD examined the nallah site and confirmed that the Korang nallah has a huge potential of water source," he said. "If a dam is constructed once, this water is stored, then the entire Mayabunder water scarcity problem can be cured by supplying this water," he claimed.
The fresh water in the nallah is getting wasted in the dry season, and till the construction of the dam is finalized, the District Administration should build a check dam in the nallah, he demanded. This check dam can help in regular water supply in the village until the dam is constructed.
The Pradhan of Harinagar Gram Panchayat, Mr. Manojit Halder has also raised similar demands while talking to this press recently.
Andaman Sheekha Daily contacted a senior officer of the APWD, who confirmed that they had received a request from the villagers of Hari Nagar panchayat in this regard. "The matter has already been informed to higher officials of APWD for approval," he said. The delay in taking up this project is causing a lot of agony and trouble for the people of Mayabunder region during dry spell and the Islanders of the region hope that the Chief Secretary will interfere in this matter and direct concern department to take up this project as soon as possible to tackle water crisis problem of the region.