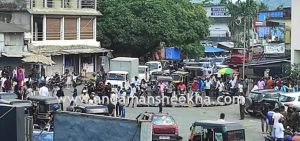 John Wilbert & Rabindranath Biswas
Port Blair, May 03: Several dozen college-going students, along with other passengers, blocked the road at Diglipur Bazar in protest, demanding special bus services for students of Mayabunder College. The increase in the number of passengers has led to a shortage of bus services on the route between Diglipur and Mayabunder.
Around 25 students and 10 faculty members from Diglipur use the bus services on a regular basis. This morning, the students were not able to get the 06:00 AM bus service as the bus was already over packed with other passengers. The students protested the lack of bus services on the route, blocking the road and demanding an increase in services by providing special bus services to Mayabunder College students. Students placed their bags on the road in protest.
The police and officials of the Tehsil of Diglipur reached the spot and attempted to pacify the students, but the students continued their protest. One student of MGGC alleged that they were not getting bus services, and if they do, they are forced to stand all the way to Mayabunder.
The officials of the Transport Department later reached the spot and assured the students of providing special bus services only for students, college faculties, and school teachers.
The students called off the protest after the Officer of the STS department assured them of providing special bus services after May 5,2023 . The STS bus will be allotted half the seat for students and half for normal passengers. However, the students warned that if the students do not get special bus services after May 5, they will continue the protest in a larger mode.
Later a senior officer of the State Transport Department in Diglipur told Andaman Sheekha Daily that the department has informed its higher authority about the demand. "The main reason for not providing special bus services is a shortage of drivers. The students' demand for special bus services is expected to be addressed after May 5," he assured.