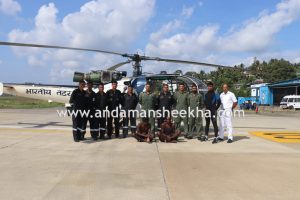 John Wilbert Vikramaditya
Port Blair, May 04: A Cargo dinghy carrying construction materials to Shaheed Dweep from Sippighat collided with an unknown private boat on May 2, 2022, causing the dinghy to sink and nearly killing its two crew members. The incident occurred around 18 km east of Port Blair, leaving the crew stranded in the sea. No one came to their aid, and they had to struggle for a long time before being rescued by the Coast Guard Helicopter.
According to reports, the crew members managed to float with the help of a diesel cane they were carrying in the dinghy. They breathed a sigh of relief when they were finally rescued by the Coast Guard. The police are investigating the case to determine which private boat had collided with the dinghy.