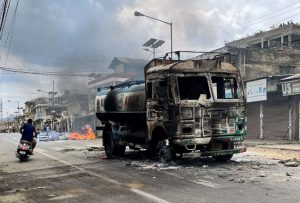 John Wilbert &Vikramaditya
Port Blair, May 07: An Andaman and Nicobar Islands resident, MSc Agriculture student of the Central University of Irosimba Imphal West, PG Hostel University, along with several other students, is stranded in Manipur due to the ongoing violence that broke out on May 3, it is reported.
The Island girl, who is currently stuck in Manipur, spoke to Andaman Sheekha reporter and said, "Because of the violence, the situation here in Manipur is very critical. Many houses outside our campus were gutted in the fire, and we could hear gunshots in the area. However, our college authority had called in Army troops outside the campus for our safety."
She further requested the Andaman and Nicobar Administration to rescue her as soon as possible with other students, as the situation is becoming more critical every day, and the students are now worried about their safety. It is learnt that a senior officer of Andaman and Nicobar Administration has assured her of every possible help.
While many students of her university have been evacuated by the help of their respective state governments, many are still stranded. The Island girl and other students have arranged flight tickets for tomorrow afternoon but are worried about their safety while reaching the airport.
Meanwhile, the State Youth President of HRS Hindu Rashra Shakti, Andaman and Nicobar Islands, has requested immediate help from the Andaman and Nicobar Administration for the Islander girl student struck in Imphal West.
He added that as many as 9,000 people have been rescued, and the condition of Imphal is not good. He further requested the authorities to rescue the stranded students and make necessary arrangements for them to reach Port Blair safely.