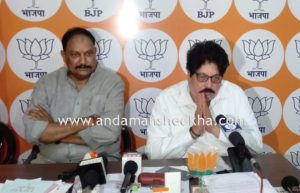 John Wilbert & Vikramaditya
Port Blair, May 09: Mr. Vishal Jolly, the member of the National Executive Committee of the Bharatiya Janata Party and former President of the Andaman and Nicobar Pradesh Committee, has announced that all left out DRM employees in the administration will soon receive the benefit of 1/30th pay. The administration will soon issue an order in this regard, he added.
Addresing a press conference at the BJP headquarters this morning Mr. Jolly said that several organizations, including the Indian Labor Union, had been continuously demonstrating for the demand of 1/30th pay for DRM employees working in various departments of the administration. While some DRM employees have already received the benefit, others in certain departments were left out. After continuous demonstrations and demands, the administration has finally agreed to the demand.
He added that there has been progress in the various regions of the Nicobar Islands. The administration aims to ensure that the benefits of various schemes reach every individual. He also informed the media that NAFED will soon begin purchasing copra at Minimum Support Price. NAFED has developed a portal for farmers' registration in this regard.
Mr. Jolly said that the procurement of copra was stopped by NAFED since 2012. The issue of purchasing Copra has been raised at all levels by the BJP's Pradesh Unit, including meetings with the Agriculture Minister and during the Home Minister's visit to these islands.
The government has already placed an order to purchase copra at MSP, and the purchase will begin soon through NAFED and other organizations. This will directly benefit the coconut farmers, and the benefit will be credited directly to their accounts.
Mr. Jolly added that recently he had a positive meeting with the Lieutenant Governor on various issues of the islands.
He also emphasized the importance of the Great Nicobar Island Project, which is crucial for the country's security. The completion of this project worth Rs 78,000 crores will ensure that the Andaman and Nicobar Islands become a Singapore-like destination in the coming years. He stated that those who oppose this project are playing politics with the country's security. BJP's Pradesh Vice-President M. Vinod and others were also present during the press conference.