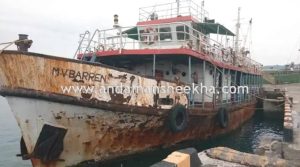 John Wilbert & Vikramaditya
Port Blair, May 09: The regular ferry service between various Islands of Nicobar District has become time-consuming and delayed, as an old passenger ferry has been operating between Champin, Kamorta, and other small Islands. The MV Barren and MV Galatia, which are giving ferry services, are much slower than required, leaving commuters disappointed.
The slower a ferry sails, the fewer times it can make trips to different Islands. Thus, it impacts the normal life of people in Nicobar District in many ways. Moreover, the ageing boats are developing more faults, leading to delays and cancellations, and most ferries are beyond their expected operational life.
Commuters have reported that it takes more than one hour extra to travel between the ports due to the slower vessel's operation. The Tribal Council of Car Nicobar has demanded frequent repairs on the existing ferry boats, namely MV Barren & MV Galatia. Such disruptions have led to immense hardships and problems for those seeking medical help or for other personal reasons.
A senior member of the Tribal Council has demanded that the Department of Shipping Services (DSS) should send a good vessel and a vehicle ferry vessel to Nicobar district, as the vehicle ferry jetties at Kamorta and Champin Islands have been constructed and completed six years ago but are still unutilized due to lack of a vehicle ferry vessels, which would boost and encourage the movement of goods and vehicles from one Island to another.
On contacting the Senior Officer of the Shipping Department, Andaman Sheekha Daily was informed that the department has already taken up the matter of maintenance. The two old ships, MV Barren and MV Galatia, are being maintained on the basis of passengers' safety, fitness to sail, and to smoothen passenger transportation. The Shipping Service has decided to send DSS Vessel MV Juhi (IV) to Nicobar District, but a Tug Boat is mandatory to shift the ship to Nicobar District. Due to Tug Boat shortage, the department is unable to send the vessel right now.
The residents of Nicobar District are facing numerous problems due to the delays and cancellations of the ferry service. The Shipping Service should replace the slower vehicle ferry with a faster one to resolve the issue and provide smooth transportation to the commuters.