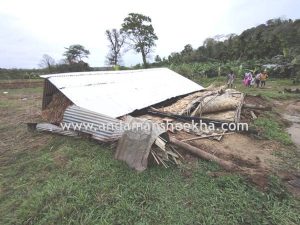 Ganeshan& John Wilbert
Baratang, May 12: Although the Cyclonic Storm 'Mocha' is far away but high wind because of the Cyclonic Storm 'Mocha' was felt in the Baratang region today. As per details, due to heavy rain accompanied by gusty winds one house made up of Bamboo collapsed today, while several other houses made of bamboo suffered minor damages.
In the early hours of the morning, Mr. Shibu Braik, a resident of Sunderghar Panchayat, faced the devastating collapse of his house due to the relentless downpour and strong winds. Meanwhile, in other areas, several tree branches fell on houses, and some trees were uprooted, causing disruption in Baratang.
Upon receiving reports of the incident, fire tenders and police personnel promptly reached the affected area to assess the situation and provide assistance. Simultaneously, the dedicated staff of the Forest Department worked diligently to clear all the fallen logs from the roads, ensuring the safety and accessibility of the affected areas by evening.