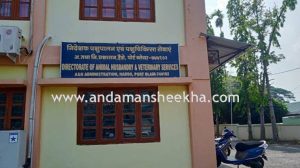 Ganeshan & John Wilbert
Port Blair, May 15: The Animal Husbandry and Veterinary Services Units in Baratang and Kadamtala Islands are reportedly suffering from neglect, turning into a sick unit of its own. Both the veterinary hospitals in Baratang and Kadamtala are in deplorable conditions, leaving residents with no other option but to seek treatment at the veterinary hospitals in Port Blair. Unfortunately, even the condition of animals is dire as there are no facilities available elsewhere for their treatment.
Shockingly, both islands are served by only one hospital, which lacks sufficient doctors, staff, and essential medicines. A resident of Baratang expressed concern, stating that the veterinary hospital has been functioning without a doctor for over a year. Currently, the hospital operates with just one supporting staff member (compounder). Moreover, the hospital lacks crucial regular medicines such as antibiotics, antimicrobials, penicillin, and tetracycline. This scarcity of medicines has contributed to the recent deaths of several pets, indicating a lack of proper care in Baratang Island.
Mr. Prakash Mondal, the Pradhan, of Uttara Gram Panchayat, shared that the Kadamtala Veterinary Hospital has only one doctor and a compounder who attend to both Baratang and Kadamtala Islands. However, due to the unavailability of a hospital van for the past year, the doctor is unable to provide services beyond the hospital premises. Consequently, pet owners must arrange transportation for the doctor to visit their homes and check their animals. Additionally, important regular medicines are not available, forcing farmers to travel to Port Blair for the medicines.
"Despite raising these concerns with the district administration, no significant actions have been taken. On behalf of villagers and farmers, it is requested that the Andaman and Nicobar Administration urgently address the issue by assigning experienced doctors to Baratang and providing necessary medicines and a functional veterinary van," alleged a local resident.
In response to inquiries, an officer from the Animal Husbandry and Veterinary Department mentioned that no doctor is posted in Baratang as it falls under the jurisdiction of the Kadamtala doctor. The officer stated that there are two Veterinary Sub-Divisions (VSD) in Baratang, with one compounder assigned to Nilambur and another to Adajig village.
Regarding medicines, the officer expressed unawareness of the matter but assured that an investigation would be conducted and arrangements made if necessary. As for the Kadamtala hospital van, attempts to repair it and call for tenders have been unsuccessful so far. The department is actively seeking a private van on a hiring basis, but no suitable options have been found thus far. Nevertheless, efforts are underway to resolve the van issue promptly.
The dire situation faced by the Animal Husbandry and Veterinary Services in Baratang and Kadamtala Islands necessitates immediate attention from the concerned authorities to address the shortage of doctors, medicines, and functional transportation. Proper veterinary care is essential for the well-being of animals and the livelihoods of farmers and pet owners in the region.