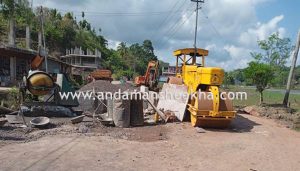 John Wilbert &Vikramaditya
Port Blair, May 17: The Teylerabad road, has been partially closed near Anant Vihar Colony area, since April 24, leading to significant inconvenience for commuters. The closure is expected to continue until May 28, 2023, causing disruptions in the daily routines of residents.
Earlier, the district administration of South Andaman had issued a notification informing residents that all vehicles will be diverted through alternative routes during this period.
Now commuters with a four-wheeler have to take the route from Sippighat – Bimbilitan village route to reach a major part of Teylerabad. This diversion is likely to pose a hassle for many individuals.
Residents allege that half of the culvert, enough for movement of LMVs is ready but still the culvert approach has been blocked by keeping a road roller and now one knows why it is done.
Mr. Raj Govind, member of Zilla Parishad in Sippighat, emphasized the importance of the ongoing culvert construction and acknowledged that people would need to take alternate routes for a few more days. Mr. Govind assured the public that efforts were being made to ensure the timely completion of the project by constructing a comprehensive and sturdy culvert, with coordination from the APWD department.
Andaman Sheekha reached out to an APWD official, who stated that the road closure was in compliance with the District Administration's order. The construction progress includes completed slab casting and ongoing work on the ring wall, followed by earth filling. Once these tasks are finished, the next step will be bituminous work. The APWD remains hopeful of completing the project by the end of this month.