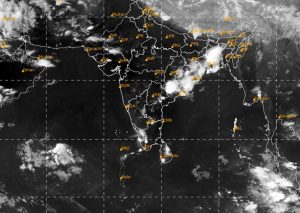 John Wilbert
Port Blair, May 19: The Indian Meteorological Department (IMD), today informed that the much-awaited Southwest Monsoon has made its entry into parts of Southeast Bay of Bengal, Nicobar Islands, and South Andaman Sea. This development has brought a wave of optimism to the residents of Andaman, as the region eagerly awaits the arrival of rains, which are crucial for ensuring sufficient water supply for the upcoming year.
According to IMD, in association with persistence of south-westerly winds in the lower tropospheric levels and rainfall activity over the area during past 24-hours, Southwest Monsoon has advanced into some parts of Southeast Bay of Bengal, Nicobar Islands and South Andaman Sea today, the 19th May, 2023.
"The Northern Limit of Southwest Monsoon passes through 5°N/85°E, 6.5°N/90°E, Nancowry and 10°N/98°E. Conditions are favourable for further advance of southwest monsoon into some more parts of south Bay of Bengal, Andaman Sea and Andaman & Nicobar Islands during next 3-4 days," a release from IMD said.
This news comes as a welcome relief to the Islanders who heavily rely on the monsoon rains for their agricultural activities and overall water supply.