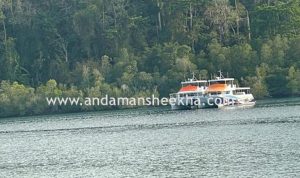 John Wilbert &Vikramaditya
Port Blair, May 21: The residents of Wandoor, who rely directly or indirectly on the Mahatma Gandhi Marine National Park, a prominent tourist destination in Port Blair, are facing dire circumstances as their source of income has been disrupted for the past three years. The closure of Jolly Boy Islands and Red Skin Islands during the Covid lockdown, followed by the unavailability of boat services upon reopening last year, has left the community struggling to make ends meet.
Numerous individuals in the area depend on water sports activities like snorkeling and glass bottom boat rides for their livelihood. Others rely on selling coral stones, coconuts, operating hotels, driving cabs, and operating dinghies. All these individuals have been severely affected by the lack of tourism activity.
Mohd. Shabbir Hussain, President of the Tourism Association of Andaman and Nicobar (TAAN), emphasized the importance of Jolly Boy Islands for the tourism industry.
"Jolly Boy contributes a huge amount of revenue per month to our tourism industry. Prior to the Covid lockdown, more than 500 people visited Jolly Boy Islands daily, with over 400 engaging in water sports activities such as snorkeling and glass bottom boat rides." The impact on the local economy is evident, as many residents in the Wandoor area rely on tourism-related jobs or businesses, including speed boat operations, water sports activities, hotels, and the sale of coral shells and coconuts.
Representing the tourism community, Hussain appealed to the local administration to provide boat facilities that would ensure a steady flow of tourists and ultimately boost the economy in the region. In response, a senior officer from the tourism department acknowledged the numerous requests from tourism stakeholders for boat surveys. Currently, one boat has completed the survey process, while paperwork for the remaining two boats is still in progress.
The lack of boat services in the Wandoor area has taken a toll on the tourism industry, adversely affecting the livelihoods of its residents. With hopes pinned on the prompt resolution of boat-related issues, the community eagerly awaits the restoration of tourism activities and the revival of their struggling economy.