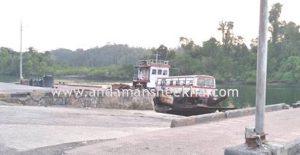 John Wilbert & Vikramaditya
Port Blair, May 22: The frequent breakdowns of vehicle ferry vessels in the Middle Strait are resulting in significant delays and inconvenience for commuters traveling on NH4 (Andaman Trunk Road). Yesterday, one of the two vehicle ferries operated by Shipping Services experienced a breakdown, leaving over 30 vehicles stranded at Nilambur Jetty. Today, a few cargo vehicles are also stranded at Nilambur Jetty this evening, causing chaos at both Middle Strait Jetty and Nilambur Jetty of Baratang Island.
The inadequate number of vehicle ferries on the Middle Strait route has long been a concern for travelers to North and Middle Andaman. They have been demanding the provision of at least three vehicle ferries at Middle Strait, but only two, namely MV Kadamtala and MV North Bay, are currently in operation.
Yesterday, due to technical issues with the ramp of MV Kadamtala, only MV North Bay was providing services. This resulted in passengers of ATR being forced to wait for several hours to cross the Middle Strait. The prolonged wait without food posed difficulties, especially for children and elderly individuals. It has become crucial to have additional vehicle ferry vessels at Middle Strait to minimize waiting times and ensure swift movement of vehicles.
Mr. Alagerswamy, Zilla Parishad Member of Baratang, expressed the need for the Directorate of Shipping Services to address this matter urgently. Many people, including patients, travel between North, Middle, and South Andaman for various urgent reasons. He emphasized that the administration should deploy a minimum of three vehicle ferries.
Mr. Subrata Basu Adhyaksh of North & Middle Andaman Zilla Parishad echoed these sentiments, stating that the Shipping Services should increase the number of vehicle ferries to at least three in the Baratang region. This would greatly facilitate smoother and timelier transportation. Additionally, he requested the Chief Secretary of Andaman and Nicobar Administration to increase the convoy by adding an additional 5th Convoy specifically for essential services operating between Jirkatang and Middle Strait. This step is necessary to ensure that the interruption of vehicle ferry services does not impact the transportation of essential goods, which affects the lives and livelihoods of the entire population in the logistically constrained district of North & Middle Andaman.
In response to the situation, Andaman Sheekha reached out to a senior officer of the Directorate of Shipping Services. The officer explained that the ramp of MV Kadamtala had cracked entirely, and since there is no crane facility in Middle Strait, they had to call MV Kadamtala to Port Blair for repairs. Furthermore, MV Austin 03 was sent to Baratang from Long Islands last night and started service this morning to assist MV North Bay. The repairs for MV Kadamtala, including some engine work, are expected to be completed tomorrow. The department plans to send MV Kadamtala back to Middle Strait on Wednesday. To address public demand and ensure uninterrupted smooth movement, the department is considering the continuation of service with MV Austin 03 between Middle Strait and Baratang, alongside MV North Bay and MV Kadamtala.