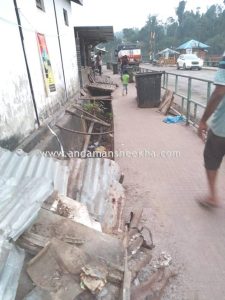 Ganeshan & John Wilbert
Port Blair, May 25: Residents and tourists in the Baratang Nilambur Jetty area have been enduring the noxious stench emanating from a sewage drain line that merges with the surrounding drain water, disturbing their mornings for the past couple of years.
Despite approaching officials repeatedly, the source of the repugnant smell remains unresolved, posing a serious threat to the well-being of both residents and tourists.
The foul odour has become an ongoing issue, with residents expressing their dissatisfaction at the lack of action taken to address the problem. "The residents of the area have complained numerous times about the foul smell originating from the drain," stated a concerned resident.
Mr. Alagerswamy, a Zilla Parishad Member of Baratang, shed light on the situation, explaining that the drain has remained unclean for several years. Despite the villagers' efforts to clean the drain using their own funds, it quickly becomes blocked again. On behalf of the villagers, Mr. Alagerswamy urged the relevant department to prioritize regular cleaning of the drain and construct a new drainage system to ensure proper water flow. He emphasized that the odour not only affects people's ability to endure the surroundings but also poses a significant health risk.
Baratang, renowned as the second most popular tourist destination in the Andaman Islands, attracts over 500 visitors daily who come to explore its limestone caves and partake in water activities. Additionally, many individuals travel between North, Middle, and South Andaman, necessitating a few hours' wait at the jetty area for ferry services. Unfortunately, these travelers are also subjected to the unhygienic atmosphere caused by the persistent foul smell.
Addressing the concerns, an official from the APWD department, contacted by Andaman Sheekha, explained that they had previously taken responsibility for cleaning the drain. However, a few years ago, maintenance of the drain and road was transferred to the NHIDCL.
In light of the ongoing issue and its impact on the quality of life for residents and the tourism industry, it is imperative that the concerned authorities take immediate action. The residents of Nilambur Jetty area of Baratang Island and the tourists deserve a clean and hygienic environment, free from the nauseating odour that has plagued the locality for far too long.