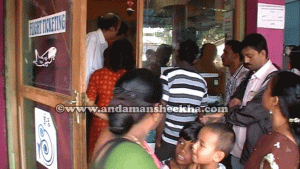 Sarthak Kanjilal
Port Blair, June 23: Remote villagers who are coming to Port Blair all the way from different Islands just to make new Aadhar Card are facing tremendous hardship these days due to slow server of Aadhar registration in all India level.
For the people of entire Andaman & Nicobar Islands there is only one CSE counter, which is situated at Gandhi Market, Aberdeen Bazaar, Port Blair.
As per reports, large number of people reach in front of the CSE at Gandhi Market early morning everyday, just to go back to their respective lodges or villages totally disheartened after waiting for entire day.
Many those are from far flung islands, who have come to Port Blair to make the Aadhar Card for their child as it is mandatory for admission in Schools are waiting since last three days with a token number they were given recently.
Talking to Andaman Sheekha, a resident of Diglipur said that since last three days he is here with his daughter and has spent an amount of 6-7 thousand in this period but everyday he is asked to come the next day as the system is down or file is not opening.
"We want Aadhar Card soon because staying in Port Blair is too expensive for us," said a resident of Havelock.
Earlier a non political organisation 'Islanders Protection Forum' in a letter demanded the administration to open up Permanent Enrolment Centres in every tehsil office of Andaman & Nicobar Islands which is not yet done letting the Islanders to face this kind of situation.
When Andaman Sheekha contacted the Deputy Director, Civil Supplies Department, Mr Sanjay Balan he said that till now the department has enrolled 3 lakh 92 thousand people of the islands and enrolment of the left out 4-5 thousand people will be completed soon.
"The Department with the help of IT Department is going to open up 12 Permanent Enrolment Centres till the end of this month in the entire Andaman & Nicobar Islands which will lead to an easy access for the people to make their Aadhar Card," Mr Sanjay Balan said.
Further Talking to Andaman Sheekha, a senior officer of the IT Department said that the main server for Aadhar Card is down in the entire Country, which is the reason behind the present situation.
He said that the IT department is in constant touch in the mainland and are trying to sort out the problem.