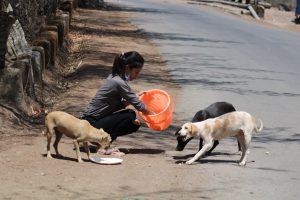 Staff Correspondent
Miss Varsha Kumar, Miss Andaman 2020 is an perfect mixture of beauty, brain and compassion. Although in past people of Andaman and Nicobar Islands have seen many beauty queens but this is perhaps the first time when people of these Islands have seen winner of any beauty pageant reaching to the ground level people and helping them during these difficult times of CORONA pandemic.
When the Pandemic Struck, lockdowns were declared by the Prime Minister of India to flatten the curve of our country but the lockdown was a heavy blow for street animals, which used to survive foods thrown by Hotels, Restaurants and others. The animals were helpless and hungry.
An animal lover from childhood, Miss Varsha Kumari, immediately decided to help the street dogs and provide food to as many street dogs as possible. Soon she also started helping stranded people and providing them food, around her locality.
Soon the demand for food distribution grew high from all corner of local society and there was no looking back for Miss Varsha Kumari, she pooled some helped from her friends and relatives and dedicated her entire time in arranging food for the helpless, stranded, widows and along with this her main focus was on lower ranked workers and staffs of PBMC, who are actual ground level corona warriors, but were not getting enough support, focus and care.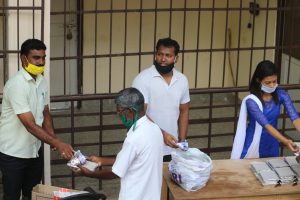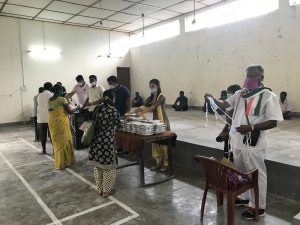 Soon she covered all sections of PBMC and distributed free food among workers and mazdoors, in presence of Mr. Suneel Anchipaka, the Secretary of PBMC and Mr. Udhaya Kumar, Chairperson of PBMC. The sections of PBMC covered are Sanitary, Electric and Work Sections.
Besides this she also distributed ration items in packets to widows of Buniyadabad area on request of Councillor of Buniyadabad area, Mr. K Ganeshan.
She also distributed Horlicks, Biscuits and water bottles among patients of G B Pant Hospital.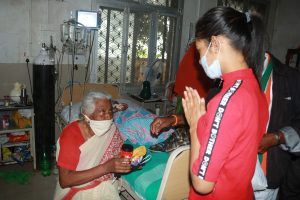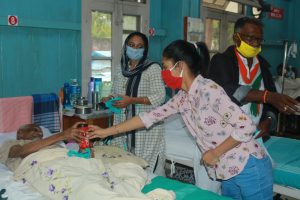 These are just an outline of the massive welfare acts carried out by Miss Varsha Kumar, Miss Andaman in this young age, setting an example for others to follow.
"Since a long time I wanted to carryout some social works but there was no platform. I am thankful to Secretary of PBMC, Mr. Suneel Anchipaka and Mr. K Ganeshan for giving me this opportunity to serve people. In future also if ever I get a chance to offer my service for any cause, I will always be there," said Miss. Varsha Kumar.
Many now believe that active personalities like Miss Varsha Kumar, Miss Andaman, must be given more responsibilities by Administration but assigning her as brand ambassador for Government Programmes in Andaman or making her a member in some State Level Welfare Committees.